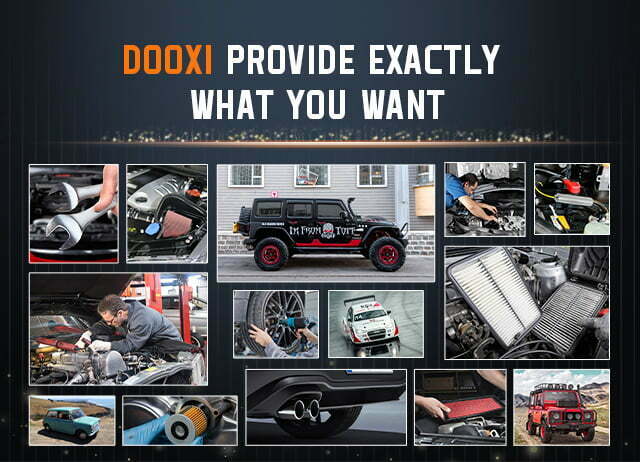 GREAT ★★★★★ Rated 9.3 out of 10 based on 100,000+ reviews. See tens of thousands of real customer reviews here.

My 2013 Honda Civic require changing oil and filter every 5000 miles. I always use better oil and filter and change them every 10000miles. Last time I found my car not performance well at 8000 miles with Honda OEM filter but same oil. Now my car goes well on 9000miles now with this Dooxi filter.

This is a great filter for the price. With synthetic media and cheaper than most other synthetic filters this filter is hard to beat. The filter is rated for 20 microns with 99% efficiency and will run as long as 15k. Since I usually run my oil 10-12k this filter is perfect for that. Used oil analysis shows the oil is clean and performing well for the mileage so I have no doubts this filter is doing a great job.

The new filter works well, and it is definitely helpful for installing and removal. I used to do my own oil change for years but then started taking the cars into the shop for a couple of years. I'm now back to doing them myself to save a little money, but more importantly, to make sure the job gets done correctly. I've been using these Dooxi filters for awhile, and most undoubtedly, will continue to use them in the foreseeable future. For price vs performance, this is probably the best bang for your buck.

Dooxi is the only place I have been able to find my filter for my Charger. Its easy to install and comes with the ring needed for installation. This filter is great for the price and shipping is fast and convenient. Well worth the money. Makes all your changing oil needs as easy as possible. Definitely will buy every time I need to do an oil change.

Perfect fit for 2014 Unlimited Sahara even after 7500 miles on it the pleats are still firm & held it's shape. It's cheap enough to change this filter out ever 1500 miles, I really don't think you have to but it is a great idea. Since it so easy to get to.

This filter fit perfectly in the 3.2L V6 of my wife's 2014 Cherokee. Thank you Jeep for making an easy-to-access filter on top of the engine and thank you Dooxi for making a quality, affordable product! We'll buy one of these for every oil change down the road.

BUYER PROTECTION
We will refund if the dooxi quality is not good as described or is with defects

WORLDWIDE DELIVERY
Covers more than 200 countries and regions worldwide

Safe Payment
Pay with popular and secure payment methods

Not A Broker
Competitive pricing from manufacturer of diverse capabilities