The solvent trap is a firearm cleaning system designed to collect cleaning solvent for effective disposal. The solvent trap feature cups, also called a divider, used to collect the by-products produced during the cleaning process. They are very similar to silencers. The biggest difference is that the solvent trap does not have a hole drilled in the center, nor is it engraved with a serial number. They are not always designed to be shootable.
These three differences are so small that people already know to convert their solvent traps into suppressors, but they are large enough that if you don't have an approved Form 1 before making these adjustments, it's illegal.
Convert solvent trap to suppressor
Some people convert solvent traps into DIY suppressors. As long as you have approved Form 1 before making the necessary changes, you can build your own suppressor. The ATF Form 1 submission process includes a USD 200 stamp duty and Form 1 submission. Conveniently, ATF does have an electronic submission portal where you can do everything except fingerprint card submission online.
Now, we may have made up our mind. Some people don't even know that this is an option. Now you may think of many questions, especially how to convert a solvent trap into a suppressor?
Your first task is to submit Form 1 to the ATF and send back the approved Form 1. This approved ATF form can give you a green light to permanently change your solvent trap to a silencer by punching a hole in it and engraving the serial number on it.
Follow ATF Guidelines
"ATF National Firearms Law Manual" puts forward specific guidelines for depth, character usage and visibility of engraving. As ATF has strict engraving standards, we recommend that you find a professional gun engraver. Make sure to bring the approved form 1 with you so that professional engravers can have the exact approved serial number ATF.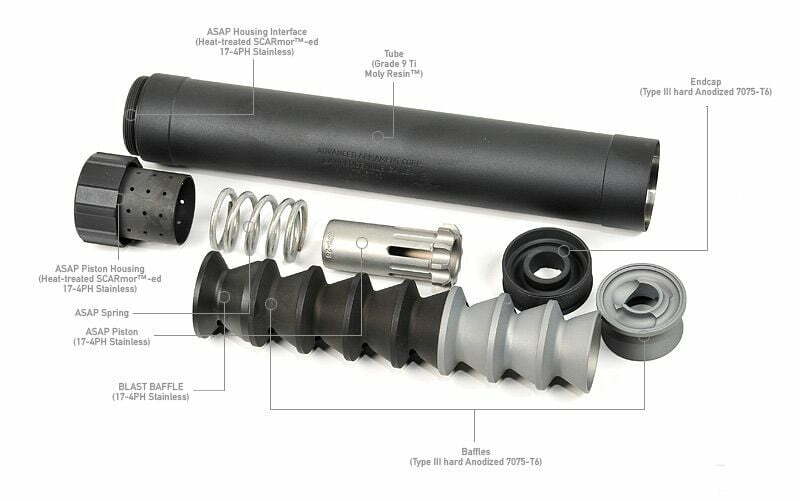 It is inevitable that bypassing the hole in the solvent trap to convert it into a suppressor requires maximum precision and accuracy. You can seek professional help or do it yourself. Depending on the solvent trap kit you purchase, some of these materials will assist in drilling through the true center of the solvent trap.
We cannot emphasize enough the importance of each step. The opportunity to make your own silencer is an exciting and fascinating thing, especially under the guidance of the solvent trap kit, but must comply with federal, state and local laws and regulations.
Back to topic: Solvent trap kit. First, what is a solvent trap? The solvent traps specially designed to screw on the end of the barrel is used to capture oil and solvents when cleaning the barrel.
But why are solvent collector kits considered swear words in some circles? Before the advent of the Internet (probably until today), solvent trap kits were sold as do-it-yourself silencer kits at gun shows with blinks and nods. Whether the buyer intends to use ATF Form 1 procedures to legally manufacture NFA-controlled equipment or will face a mandatory minimum 10-year imprisonment risk after being convicted, it depends on the individual.
The reason why these collected metal cups and test tubes are called solvent collector kits instead of 80% silencer kits has to do with semantics. According to the law, silencer parts are controlled by NFA, and all stages of the manufacturing process are not completely cut and dried. Therefore, although it is perfectly legal to have a solvent collection cup, it is illegal to have an incomplete silencer baffle without approved Form 1 even if they are the same. Are you crazy?
Fast forward to the modern era, when Internet retailers like Amazon sell solvent collection kits online. My guess is that the market for these devices is the same as the gun market: 1% ends up as solvent traps and 99% ends up as suppressors. Breaking down this 99% of materials into medium-sized 1 approved and unregistered mufflers will be a more interesting study. What I personally care about is not personal freedom, but personal freedom.
So let's get back to the crux of the problem: is the solvent trap kit worth it? To answer this question, we need to make some assumptions. First of all, we assume that all people who want to manufacture silencers will follow NFA rules and regulations. If you are not familiar with the ATF Form 1 application process, it is recommended that you use the eForm system because you will still be re-approved in about two weeks. We have put together a step-by-step eForm tutorial, which can be found here. As long as people do not infringe the interests of anyone else, people should be able to build anything they want, but I never recommend breaking any laws.