With more than 100 years of experience, ACDelco knows a lot about how to help filter out harmful particles. ACDelco GM Original Equipment and ACDelco Gold (Professional) oil filters, fuel filters and air filters are manufactured from quality materials to provide durability and superior performance. ACDelco has filters that block just about everything — from an oil filter that blocks a third of the size of a human hair to cabin air filters that block faint smells in the air.
History of ACDelco
1908: with the backing of the Buick Motor Co., Albert Champion began a new company called the AC Spark Plug Company.
1916: Alfred P. Sloan formed United Motors Corp. and eventually acquired Buick and AC Spark Plug.
1921: Champion founded the Flint Faience & Tile Company.
1927: General Motors purchased the remaining stock held by Champion's estate and took over the AC company. On December 1st of that year, AC became a full division of General Motors.
1933: When AC expanded its operations, General Motors closed the tile operation because of increased demands on the kilns for spark plugs.
1960s: The space race was on and AC Spark Plugs and Delco Electronics were proud parts of it, in fact both company helped NASA develop the inertial guidance systems for the entire Apollo program that took astronauts to the moon.
1971: United Motors Service was renamed United Delco Division.
A few years later United Delco and the AC Spark Plug Division combined to form the company we know today as ACDelco.
Customer Support: 800.223.3526
Associate Distributor Program: 800.253.3428
ACDelco Filters Near Me
Use their ACDelco Filter LOCATE SERVICE to find a GM Dealership, ACDelco Service Center, or collision repair facility.
ACDelco Features
ACDelco was founded over 100 years ago.
ACDelco stand stronger with GM Genuine Parts.
Their three-tiered roster is organized for customers' specific needs and use, and built on the foundation of GM Original Equipment (OE).
GM Genuine Parts and ACDelco Original Equipment are the true OE parts installed during production or validated by General Motors for GM vehicles.
They provide parts for Chevrolet, Buick, GMC, Cadillac, or even most non-GM vehicles.
GM Genuine Parts and ACDelco continue to work within GM to innovate transportation and technology.
They provide the first line of defense from harmful contaminants that can seriously degrade engine performance and lifespan.
ACDelco Filters are a premium range of filters for the Australian market. They consist of Oil, Air,
Fuel and Cabin Filters covering numerous different applications from automotive to light commercial to off road.
ACDelco Filters are manufactured to ISO TS16949:2002 and ISO 9001 international standards.
ACDelco Filter List
ACDelco stands for quality. With 100 years of history, ACDelco is the premier supplier of aftermarket parts and products that cover most GM vehicles as well as many other makes and models. As a global leader in automotive replacement parts and related services, their filters for cars can be found around the globe and their focus has always been on building a reputation as the number-one source for quality auto parts.
Here are some best ACDelco oil filters, air filters, fuel filters and cabin air filters.
ACDelco TP3018 Professional Fuel Filter
ACDelco TP1015 Professional Fuel Filter – Best Aftermarket Fuel Filter
ACDelco PF2232 Professional Engine Oil Filter
ACDelco PF63E Professional Engine Oil Filter
ACDelco GM Original Equipment PF46E Engine Oil Filter
ACDelco GM Original Equipment PF48E Engine Oil Filter
ACDelco GM Original Equipment PF2257G Engine Oil Filter
ACDelco A3144C Professional Air Filter
ACDelco GM Original Equipment A3181C Air Filter
ACDelco GM Original Equipment CF188 Cabin Air Filter
ACDelco GM Original Equipment CF197 Cabin Air Filter
ACDelco Filter Cross Reference
With the search tool of the ACDelco Filter site, you can enter a given manufacturer's part number to get the corresponding ACDelco part number.
Best ACDelco Filters
If you drive a truck and need a fuel filter to ensure the long life of your engine, then the ACDelco TP3018 professional fuel filter is for you.
This fuel filter protects your vehicle's fuel system from rust, dirt, dust, and paint particles. It works by trapping contaminants before they get into your truck's fuel delivery system. In this way, you will experience an improvement in engine performance.
Anyone who has bought such a filter has confirmed that it provides the performance that every car owner wants. The reason for this is that manufacturers design components that meet expectations of form, function, and applicability. This provides customers with excellent value and excellent service.
The fuel filter is 6.8 x 4.7 x 4.7 inches. It fits easily into your GM truck, and once you load it into your car, you'll enjoy driving it. That's because when it comes to the vehicle's fuel system, you'll never get in trouble.
It weighs a pound and is highly polished externally for aesthetics and to protect the parts from the weather.
Protects your truck's fuel system from contaminants

Durable and dependable

Fits in your GM truck perfectly

Improves the performance of your engine
A bit expensive compared to other models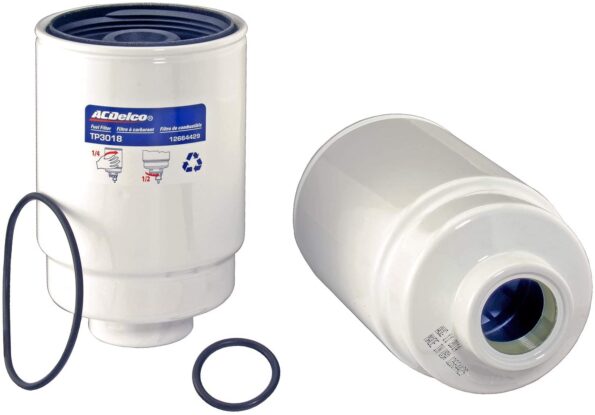 The fuel filter has 98% filtration efficiency. Compared to other models on the market, this one is quite impressive. With such high filtration efficiency, you don't have to worry about pollutants finding their way into your fuel system.
This filter has high quality of its build. It has two O-rings, a small O-ring and a large O-ring. These O-rings help prevent leaks after installation. Therefore, it is recommended to lubricate the O-ring well before installation.
The fuel filter also comes with a 24 – month unlimited – mile limited warranty. This is a great deal because it helps extend the life of the fuel filter while saving you money.
Easy to install

Comes with two O-rings and seals

Durable and dependable

Improves your vehicle's engine performance
Tightening it too much may damage the threads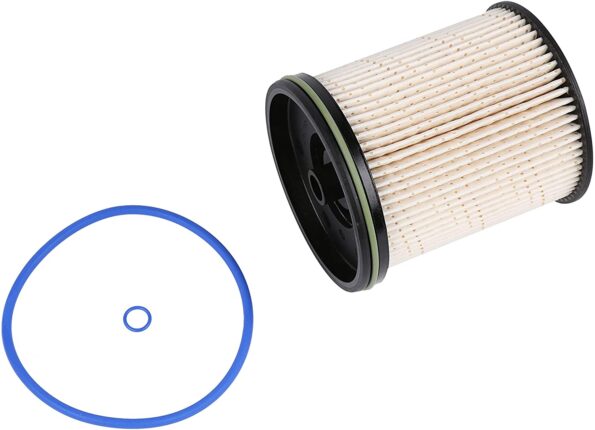 ACDelco GM's original PF48E oil filter is 25% smaller than conventional filters, but it offers a powerful filter. The filter medium is so effective that all particles stop there before they get into the engine system.
This filtration ensures better engine performance. More importantly, It ensures complete protection of the filter medium. As a result, you can use the filter for longer without worrying about the overall performance of your vehicle.
With this filter, you also get a steel shell that is easy to assemble, so you can recycle the parts. If you want to recycle leaf springs, you can do so easily. Meanwhile, when you want to get a whole new filter, you can change the inner shell of the filter. The new parts will ensure better efficiency.
Smaller in size and equally effective

Steel shell for better performance

Improved installation torque

Solid overall construction
Must pay attention to the oil type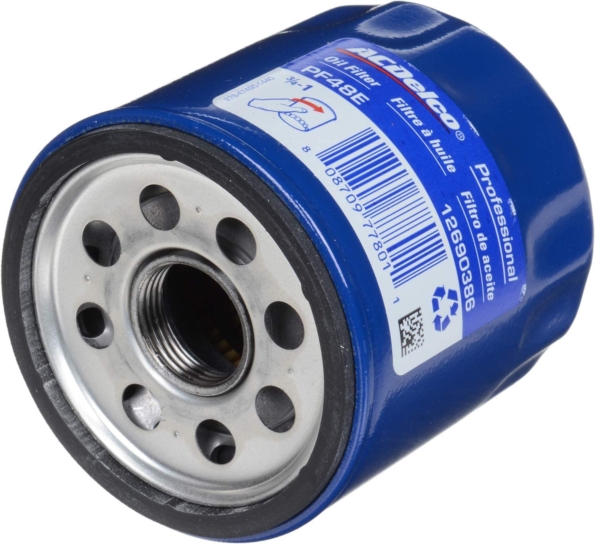 This oil filter ensures complete filtration and better oil flow. With ACDelco PF46E Professional Engine Oil Filter, you can have 10 times more open area to take the oil filter to the next level. This is related not only to filtration efficiency but also to oil flow.
It's a nonmetallic cartridge that can be extracted when you want to remove oil from the filter. You can remove excess oil more effectively. The cartridge can also be used as an additional energy source, which makes it adequate for many occasions.
If you need an extra power booster, go to this filter and discover the full potential of the oil filter. It's great to have such company on the road.
Specially designed valve and cartridge

Quality filtration media inside the filter
Installation can be slightly more difficult
ACDelco's professional aftermarket air filters are high quality replacement filters. The A3181C improves engine efficiency and performance, resulting in significantly longer engine life. The filter almost intercepts particles of air before they enter the engine. As a result, it provides the cleanest air for the engine while limiting the flow of air to the minimum. In addition, the ACDelco engine filter also has a tight seal, which enables it to prevent unfiltered air from entering the combustion chamber.
In summary, the ACDelco filter's superior performance is due to its superior flow management, efficiency and filtration capabilities. This is a quality alternative to unbranded aftermarket parts, and produced to meet your expectations in function, form, and fit.
Supplies clean air with hardly any airflow restriction

Protects internal components from premature wear

Only takes minutes to fit this filter
Installation might be a little tricky for those changing the filter for the first time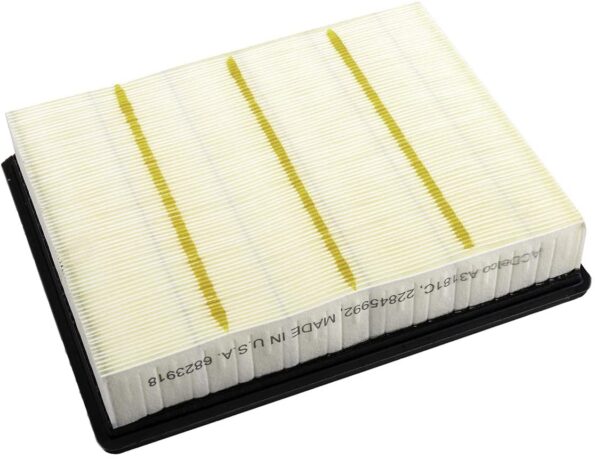 ACDelco CF188 is one of the best aftermarket air filters, capturing 100% of large air particles. The product adopts advanced filtration media technology, and the building consists of three layers of non-woven materials to prevent pollen, dust, smoke and other pollutants from entering your HVAC system. The outer layer captures large particles, the middle layer captures small particles, and the last layer strengthens the filter, making it stable and durable. This product is a recommended OEM replacement for GM vehicles and can fit in a Buick, Cadillac, GMC, and a Chevrolet.
With this product, your car will always smell fresh and you will be protected from harmful air pollutants. It also reduces sediment on the fan, preventing bacteria and mold from growing in the vents. The filter is easy to install and has an arrow pointing to the direction of air flow. You won't have to worry about installing it backwards.
3 Layered design for maximum efficiency

Backed by GM

2 Year Warranty

Easy Installation
Only works with GM vehicles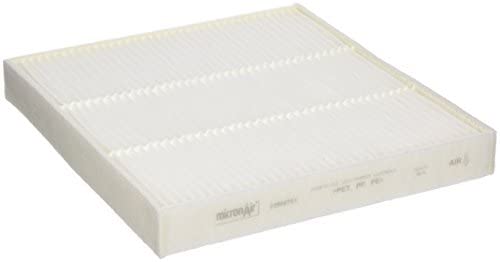 ACDelco Filter Reviews
You can watch the Youtube Video about ACDelco Professional Oil Filter review.
If there is any infringement, please contact us to delete it in time.
ACDelco oil filter advantages:
There are several different AC Delco filter options, but at a minimum, users can expect 98 percent multi-pass filter efficiency in the 25-30 micron range. With this type of protection, the motor is still free of dirt, debris, and contaminants.
For GM and Non-GM Vehicles
The AC Delco filter is specially designed to replace the original equipment in GM. However, many filters are also compatible with other manufacturers and models.
A sturdy gasket ensures that the oil filter does not leak. The gasket does not wear out or crack easily, yet it does not hold back the user from replacing the filter.
Consistent Flow Management
As an OEM substitute, you can expect the same oil flow as the vehicle supplied by the dealer. These filters are designed to optimize the performance of the oil passing through them.
Thermosetting Adhesive Seal
With a special adhesive seal, you know the medium will stay where it is. The brand offers reliable performance at very little cost.
Five times Greater Burst Strength
Even if you're putting your car under maximum pressure, you can rely on these oil filters. Even in extreme temperatures, they can keep their balance while towing, hauling, or driving.
Injection Molding Nylon Core
The durable nylon wick injected into the oil filter provides sufficient strength. Despite durability and high-end performance, car owners still receive a lot of fuel flow for smooth driving.
People don't like ACDelco oil filter:
Cheaply made
Not as efficient as performance models
Not an option for all models, Doesn't fit every car
ACDelco Filter Comparison
Comparing AC Delco Vs. Similar Oil Filter Brands
The ACDelco oil filter is a cheaper option than the Mobil 1, but not as good. In addition, not all makes and models of ACDelco are available, while the Mobil 1 is.
ACDelco oil filter uses a leaf spring, and Wix has a coil spring. In addition, ACDelco comes with a plastic center tube, while the Wix has a more durable metal center tube.
K&N's oil filters are usually twice as expensive, but they don't need to be replaced and can usually be much more expensive. The filtering capacity is usually higher for K&N filters.
Both ACDelco and FRAM filters will be considered budget options. However, the ACDelco filter has more wrinkles, but the FRAM paper is thick, which may reduce oil flow.
Bosch oil filters are more expensive, but they also offer special filters. In addition, you can find these filters for a variety of vehicles, not just GM based ones.
Purolator oil filter is more durable and efficient. However, this extra performance will cost more because the brand doesn't really offer a budget-friendly filter option.
Where to Buy ACDelco Filters Online
You can buy ACDelco Filters from their own website or some other distributors or some online shops on Amazon, Walmart, and eBay.
ACDelco Shop
Advanceautoparts
O-Reilly Auto
Rock Auto
Summitracing
Stockwise Auto