Royal Purple is an American company specializing in producing a wide range of auto parts and accessories. Since 1986, the company has consistently produced premium, high-performance oil filters, and engine lubricants. Their Extended Life series is especially a force to reckon with in the Oil Filter market.
History of Royal Purple
1986: Royal Purple was founded by John Williams, a synthetic oil developer and later consultant. 2004: producing synthetic oil using its own additives, Royal Purple grew and completed a 125,000 square foot production facility in Porter, Texas. And the company acquired a US federal trademark for the exclusive use of purple containers for lubricants.
2011: Royal Purple had an annual income of 109.5 million dollars.
2012: Royal Purple was sold in over 25,000 outlets worldwide. In July 2012, Royal Purple was acquired by Calumet Specialty Products Partners (CLMT), a leading refiner and processor of specialty hydrocarbon products headquartered in Indianapolis. It was sold for 335 million dollars to CLMT and is now part of their Branded Products Division.
Royal Purple Information
Toll Free: 1-800-851-3641
Direct: 1-618-445-6011
Address: One Royal Purple Lane
Porter, TX 77365
281-354-8600
888-382-6300
281-354-7600
Royal Purple Filters Near Me
Royal Purple is distributed in countries around the world including the United States, Canada, Mexico, Japan, China, United Kingdom, Australia and Italy. Prefer online or offline? Just use the Royal Purple filters Near Me Locator.
To find the Royal Purple® Industrial Distributor nearest you, please call 888-382-6300 or send a message to them.
Royal Purple Features
Royal Purple® premium oil filters provide superior filtration and flow, outstanding particulate capacity and heavy-duty construction for cleaner oil and longer filter life.
Royal Purple located in Porter, Texas, produces a wide range of high-performance lubricants for nearly every consumer and industrial application.
Royal Purple's formulators have more than 200 years of expertise in developing high-performance lubricants.
Royal Purple focuses exclusively on developing state-of-the-art lubricants.
Royal Purple and several other CLMT brands have been assessed and certified as meeting the requirements of ISO 9001:2008.
Royal Purple and the Color Purple for Oil Filters are registered trademarks of Calumet Branded Products, LLC.
Royal Purple Extended Life Oil Filter List
The Royal Purple oil filters are top-of-the-line. Royal purple premium extended life oil filters provide superior filtration and flow outstanding particulate capacity and heavy-duty construction for cleaner oil and longer filter life. In fact, Royal Purple's filter media employs the latest technology filtration system to capture particles as tiny as 25 microns. Each filter features a high flow design with 100% synthetic micro-glass filtration media that catches 99% of particles 25 microns and larger, and 80% of particles 10 microns and larger. Plus the high-performance silicone anti-drain-back valve helps prevent dry starts even in extreme conditions. Here are some of Royal Purple Star Products.
Royal Purple 10-2808 Oil Filter
Royal Purple 20-820 Extended Life Premium Oil Filter
Royal Purple 10-48 Extended Life Premium Oil Filter
Royal Purple 10-2867 353465 Oil Filter
Royal Purple 341777 Royal Purple Extended Life Oil Filter
Royal Purple 356753 Extended Life Oil Filter
Royal Purple Oil Filter Cross-reference
Royal Purple's new online search tool allows you to find parts by vehicle, part number or cross-reference.
Use the search tool on their site and enter in your vehicle's year, make, model, and engine type to find all compatible Royal Purple parts.
Or enter a Royal Purple part number to see full specs and images directly for a specific part.
Have a part number from another brand? Enter the number in the cross-reference search for equivalent Royal Purple parts.
Best Royal Purple Oil Filters
As some conventional filters provide average burst strength and are not strong enough for heavier vehicles, the Royal Purple 20-820 oil filter provides better burst strength, which is a good reference if you want to ensure better vehicle performance.
Thanks to the carefully designed back valve, this oil filter prevents dry start or other start problems. Because the back valve is made of high-performance silicone, it has high performance and endurance in tough conditions.
At the same time, filtration efficiency is very high. Inside the filter, the filtration efficiency is usually less than 90%, but the particle removal rate of Royal Purple 20-820 filter is 99% at 25 microns. This is very effective for vehicles with duty potential.
Royal Purple provides a highly efficient filter that fully guarantees the flow within the filter. This kind of technology requires more investment, which is why the price is high.
Superior particle removal

Great performance in tough conditions

100% synthetic media made of micro glass

Completely optimized flow
Almost three times more expensive than competitors' products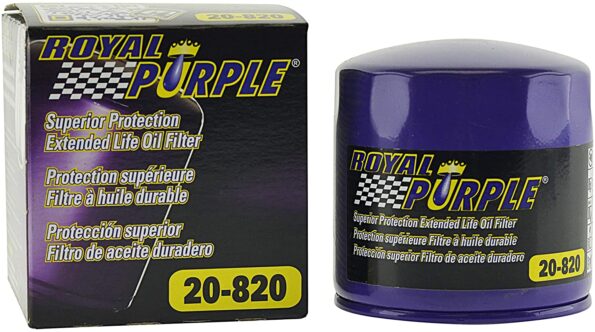 The filter will eventually achieve a leak-free seal. If you struggle to find a product that offers leak-free performance, go royal purple 17807 17807 oil filter. This is one of the best options you can find in the market.
Not only can you avoid leaks, but you can also have a high-load solution. The filter housing is designed to provide complete protection inside the filter. Higher blasting intensity is an effective solution. This is why most users choose this filter when they want to make sure their vehicle is safe.
For a more advanced method, the filter is built internally using advanced technology. Leakage is not possible, overall performance is better. You get optimized flow characteristics for more durability on the road.
Cars need a high-quality oil filter, and with this you can get a good filter. In addition to good performance, there are a few things to know about the product. Here are the most obvious features of the filter.
Filter housing made of high-quality materials

Back valve is good for anti-leakage protection

Extended filter life

More particles can be removed thanks to improved technology
Not so easy to find in brick-and-mortar stores

Slightly lower flow than expected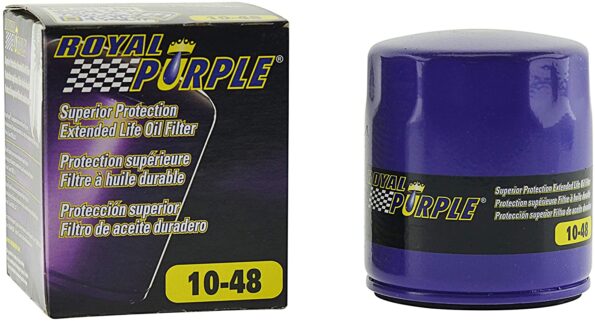 As most users believe that rubber may be an ideal material for the oil filter inside the linear structure, the Royal purple 10-2867 353465 oil filter provides as part of the filter structure. With this rubber gasket, it is possible to be leak-free in any case.
What's more, it's worth mentioning other design advantages, such as thicker shell materials and synthetic media for better filtration. With this constructor, you can guarantee more performance options and ensure that the filter provides a complete extract.
The efficiency is 99%, so when it comes to car performance, you can be safe. This filter fully supports a better driving experience. All drivers will find their cars effective on the road. The powerful Royal purple oil filter is your best companion when driving.
Harsh conditions are sometimes unavoidable on the road, but if you have a good oil filter, no conditions can stop you. In this case, you get a high-quality filter design and strong performance.
Look at the main features of the product and you can decide if the filter is right for you.
Steel back plate provides higher burst strength

Installation and removal are easy

Assembly of filter elements is simple

Back valve prevents possible dry starts
Limited number of car models

Slightly lower flow than expected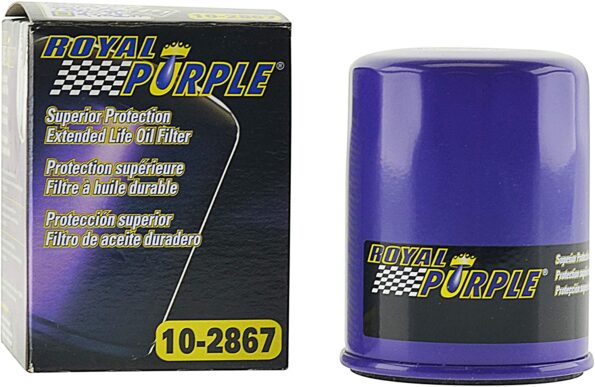 As the filter element is sometimes very sensitive, Royal Purple decided to use a powerful material in the design of its filters.
The oil filter has the metal cap and the steel back plate. These building elements are combined to prevent oil from leaking out. Sometimes, it is not possible to prevent leaks, but filters use specific techniques to keep leaks to a minimum.
341777 Extended life oil filter uses rubber gasket based leak proof technology, which is very useful throughout the design. Gaskets provide better protection and leakage is no longer a problem.
Due to the back valve structure, dry start can also be minimized. The main shutdown prevents oil leakage in the filter, which is the most important part in the overall filter performance.
If you need an advanced protection and containment option, consider this oil filter. You will get good performance and correlation filtering at the same time. A filtering efficiency of 25 microns is possible, which represents a great filtering potential.
Better security against road debris puncture

Longer filter life

Thicker shell material
Filter should have hold more grams of contaminants

Filtration might be faster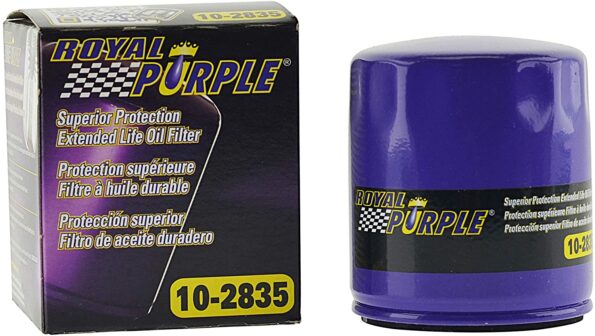 Design is the main advantage of this filter, especially if we look at a small part of the structure. The central tube combines the elements and the entire design responds to performance requirements. In this case, you have to provide high efficiency of rugged steel components.
When considering the other elements of this filter, we need to pay attention to the synthetic media. Here, the main filtration results in a different stage, which is why the elements need to be made of high quality materials. So that's what happens with this filter.
As with the synthetic medium of the screen backing, the special gasket made of nitrile rubber gives the user a superior filter. With this material, the entire filtration process is complete.
When the oil passes through the filter, you need to have sufficient performance possibilities. With the right filters, your car will be ready for high load situations where all conditions are especially harsh. If you choose this filter, your vehicle will be adequately equipped to adapt to any conditions.
Very high burst strength

Lubricity compound significantly reduces torque

Easy element assembly
Flow restriction might be lower

Filtration might be faster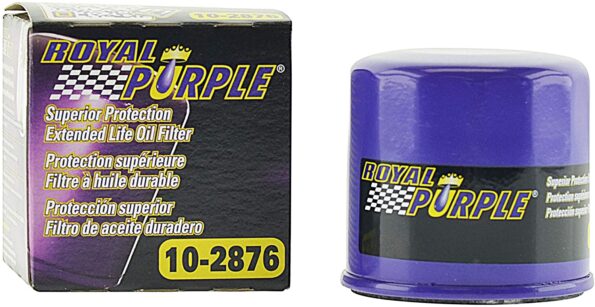 Royal Purple Extended Life Oil Filter Reviews
In the extended life oil filter, Royal Purple has shown why they continue to be one of the leading manufacturers when it comes to all things auto-care.
To get maximum filtration for extended life, Royal Purple oil filters are engineered with the latest models. In fact, the vehicles running in synthetic oil will also benefit from these products.
All Royal Purple premium oil filters are compatible with conventional and synthetic oils. Additionally, it will meet or exceed the requirements of the original manufacturers.
The useful life of Royal Purple premium oil filters is the life of the engine oil for all non-warranty applications. However, if you are driving the vehicle under severe conditions, maintain the owner's manual change intervals recommendation.
Equipped with silicone anti-drain back valve
The silicone anti-drain back valve helps in forestalling the dry starts. It stops the oil to drain-back during the shutdown as the silicone exceeds the standard rubber in both extreme cold and hot oil temperatures.
Pros
Durable design with premium components (including metal backing of silicone media)
Expect at least 10,000 miles of use before filter change required
99% cleaning efficiency at 25 microns
Brand with a reputation for producing leading products in the auto-motive industry
Well priced – you get what you pay for
Nice purple paint job
Extra thick shell
Cons
Premium oil filter demands a premium price
Royal Purple Oil Filter Comparison
Here's a video about a cutup of Royal Purple's 10-2808 oil filter, along with comparisons to other name-brand filters that fit the same vehicle. Filters with similar designs include Mobil-1 and AMSOIL.
Watching this video, you can know the Royal Purple Filter vs FRAM vs WIX vs BOSCH.
If there is any infringement, please contact us to delete it in time.
Where to Buy Royal Purple Oil Filters Online
Royal Purple filters are available at many of the world's leading suppliers of automotive products. To learn more, please visit their partner websites at the links below to view participating retail stores near your location.
Royal Purple oil filter – where to buy
Royal Purple Direct for oil filters
Royal Purple oil filters on Walmart
Royal Purple Oil filters on eBay
Royal Purple Oil Filters on Amazon
American Lube Supply
Arnold Oil
Buckeye Sales (JEGS)
O-Reillys
Premier Performance
Saddleback Cars
Turn 5