This automotive supplier's oil filters are known for their excellent performance, tightness and heat dissipation. Filters can prevent pollution, such as metal dust and combustion residues, and also reduce engine wear. Bosch provides a variety of oil filters for 95% of cars currently on the market.
History of Bosch
The history of Bosch starts with many first steps. The step into independence, onto the automotive market, into markets outside Germany, and onto the factory floor of major manufacturing. Here are 6 main steps as following:
1886-1905: The beginnings
In 1886, Robert Bosch founded the "Workshop for Precision Mechanics and Electrical Engineering" in Stuttgart.
In 1898, he founded the first Bosch company outside Germany in London together with the Englishman Frederic Simms.
Business in the United States was so successful that in 1912 Bosch started manufacturing its star product in a factory of its own in Springfield, Massachusetts.
1926-1945: Cars and beyond
Many years in the making, in 1927 an innovation came to fruition that would last right up to this day — the diesel-injection pump. This was the reaction of Bosch to the further development of diesel engines, which in contrast to gasoline engines required no magneto ignition. Initially used only in trucks, the first diesel-injection pump for cars went to market in 1936.
When the National Socialists assumed power, this also presented Bosch with major challenges. The company's foreign sales reached a low of nine percent in 1939.
1946-1959: reconstruction
By 1945, more than 50% of the Bosch plant facilities in Germany had been destroyed by Allied bombs. It was until 1960 for international sales to once again exceed 20 percent at Bosch.
The 1960s through to the 1980s were marked by transformation at Bosch, turning it into a diversified group with self-managed divisions, a global company, and the market leader in automotive electronics.
The Iron Curtain came down, Asia provided new markets, and software opened up new opportunities for Bosch. The last three decades have brought rapid economic change, which the company has to face head-on.
Bosch Filters Near Me
You can buy Bosch Auto Parts at a number of online retailers and retail stores near you through the Bosch Filters Near Me.
Bosch Features
Bosch Premium Oil Filters utilize an exclusive blend of cellulose and glass fiber materials in the media for superior oil filtration and greater capacity for engine protection.
With 99% efficiency, the Bosch Premium Oil Filter traps both large and microscopic particles from entering the engine. And, with a media that can hold up to 14 grams of dirt and particles, conventional and semi-synthetic motor oil users can count on premium engine protection.
Based on ISO 4548-12 at 20 microns on D3500.
Bosch Filter List
Bosch oil filters accompany a larger FILTECH filter base, which is larger than conventional filters. There are some star products of Bosch Oil Filters:
Bosch 3300 Premium FILTECH Oil Filter
Bosch 3312 Premium FILTECH Oil Filter
Bosch 3330 Premium FILTECH Oil Filter
Bosch 3323 Premium FILTECH Oil Filter
Bosch D3314 Distance Plus High Performance Oil Filter
Bosch Oil Filter Cross-reference
Use the oil filter cross reference site to get your needed Bosch oil filters.
Best Bosch Oil Filters
With Bosch 3323 Premium oil filters, you can keep your engine oil clean at your fingertips. They use Bosch FILTECH technology, a mixture of traditional and industrially made materials, effective filtration and advanced wear protection measures.
The Bosch 3323 has a larger filter area and can filter more dangerous pollutants than a normal filter. Rugged steel chassis and housing ensure a tight fit without any distortion or leakage, silicone anti-reflux valve ensures a clean oil supply when you start your vehicle.
Bosch FILTECH's filter plate is 42% larger than a traditional filter, and the filter channel is nearly 30 percent higher than a traditional filter, which can screen out more harmful pollutants. This enables it to protect your engine from unsafe particles and debris, preventing premature wear and engine damage.
It will satisfy your specific application of the engine. They fit better, do more and provide more insurance for your engine than other brands of filters. Bosch 3323 Premium oil filters meet or exceed all OEM guaranteed needs and will continue to work for a long time.
Not only do Bosch 3323 Premium oil Filters fit with the unique OE filter, but they also use unique and engineered blends in the media for unparalleled oil filtration and increased engine safety. With Bosch 3323 Advanced oil Filter, you can maintain your engine life management.
The exclusive FILTECH technology filters more harmful pollutants to increase engine safety

Sturdy steel base plates and housing protect warping, breakouts, and poor fit

Silicone anti-drain valve guarantees a clean oil supply when the car is started

The high lubricity seal configuration provides a tight seal yet easy evacuation

Double screwed, rolled seam forms a solution-free canister
Cellulose paper on filter component No better than synthetic

Stamped steel base no better than actual spring

20-micron filter paper no better than 15 micron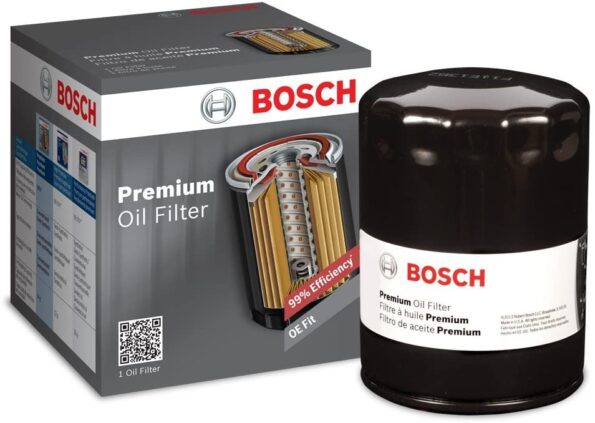 During ignition, the car engine pulls in the soil, water and other dangerous contaminants, which can damage the car engine. The Bosch 3330 has a solution for this as an oil filter.
Bosch 3330 installation is simple and you can use it on all kinds of vehicles.
Its silicone hostile to reduce back valve delivers clean oil when the engine starts. It usually has a longer service life than a standard nitrile elastic valve. In addition, it uses the latest FILTECH technology and a special mix of traditional and industrial-grade materials to make the filter media 100% safe.
Unlike the traditional filters on the market, which have a ceiling of 7.4 grams from floor to ceiling, the Bosch 3330 can hold up to 29.1 grams of dust and other particles. Bosch oil filter is made of steel base and plates with the double screw and sealed holder. It prevents spills and warps, giving it superior burst quality.
In addition, its filtration area is 42% larger than that of ordinary oil filters. The manufactured medium filter is 20% thicker than the standard filter on the market. It works with wires, traps, and filters out large amounts of contaminants, even tiny particles, to ensure that your engine is protected.
Uses advanced FILTECH technology that guarantees powerful screening

Comes with metal end caps that provide remarkable seal filter elements

Comes with high lubricant gasket design that will offer a tight seal yet easy to remove

There is a high oil flow rate

Durable membrane reinforced with a thick steel wall protect it from harsh conditions
Flimsy external packaging

Some customers complain of poor quality

An external contractor creates filters for this item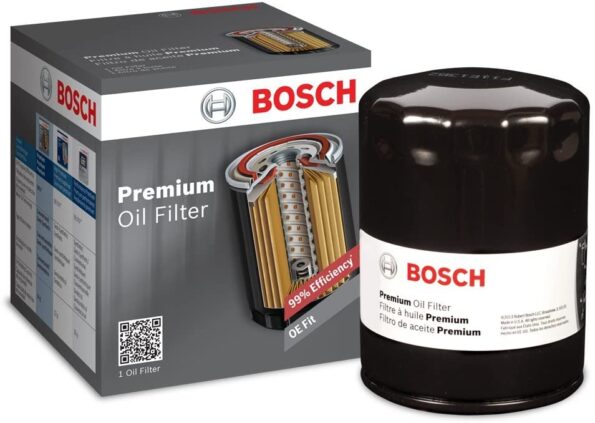 Bosch 3312 oil filter are designed for longevity and ease of installation. Likewise, they are machined with durable steel base plates and lodgings that avoid warping, leakages, and poor fit. Get and effectively introduce the Bosch oil filter on your car.
Bosch 3312 oil filter has a long life and easy to install. Again, they are manufactured from a durable steel base and lodgings that avoid warping, leakage, and poor fit.
It is highly adaptable because it can be used with any artificial or conventional oil. It is made of rugged and overwhelming inspection steel base plates and a great measuring case. And it uses PTFE gaskets, making it easier to manufacture. In addition, its implementation is extremely efficient.
Another very viable component that affects the Bosch 3312 oil filter is the double-threaded, moving groove. The structure is a non-release canister, thus extending the life of the filter. It has a range of several miles, which would need to be replaced.
Unlike many brands, the Bosch 3312 engine oil filter can filter out more harmful pollutants, more prominent car insurance. Therefore, the designed oil filter is perfect for long journeys.
It is adaptable as it can be used with either Synthetic or regular oil

It is sturdily worked with substantial custom steel base plate and an overwhelming check case

This is a superior oil filter that screens more unwanted substance and keeps the oil clean for the more extended period

They have a predominantly blasted safe quality, as they are worked with a thicker outer casing
Insubstantial external packaging

An external contractor creates filters for this item

Stamped steel base no better than actual spring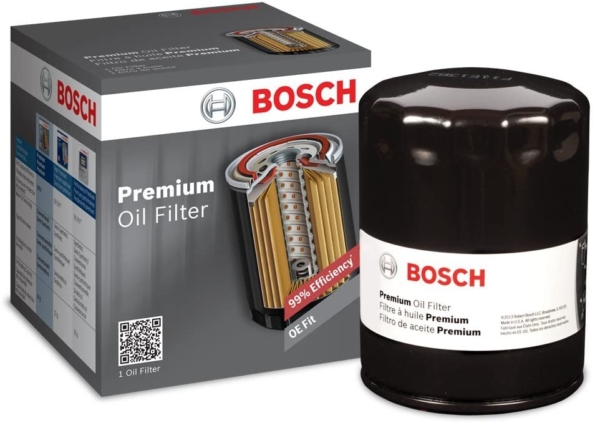 The Bosch 3300 is also equipped with FILTECH technology, which effectively filters out large amounts of unsafe pollutants from the oil and gives your vehicle improved engine performance.
It also comes with a rugged steel base to prevent poor fits, leaks and warping. The anti-drain back valve is designed from silicone, which is more grounded and lasts longer than rubber. This ensures that the car has a perfect oil supply at every takeoff. This prevents dry start, which is harmful to the engine.
This leak-free canister is due to double bolt seam rolling to avoid leakage. The seal is highly lubricated to ensure easy removal and a tight seal. Bosch 3300 filter plate is 42% larger than traditional filter plate and has about 30% higher channel. This makes it possible to deal with less safe pollutants.
It is flexible, as it can be used with either synthetic or conventional oil

It's ruggedly engineered with a sturdy gauge Steel plate and an extensive case

The heavy outer gauge and steel base bringing about superior burst resistance

This is an elite oil filter that can hold more unwanted materials and is designed to keep the oil clean for an extended ride
Comes with a stamped steel base which inferior to actual spring

The thinker eternal makes it heavy

Filters are said to be coming from an external manufacture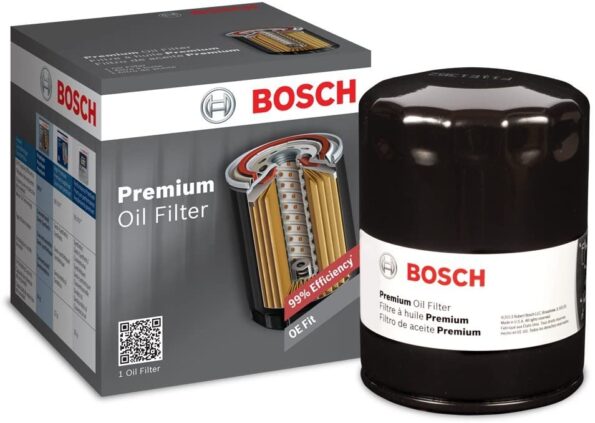 The Bosch D3314 Advanced FILTECH oil Filter is a compelling product that can be used effectively on vehicles in Asia and even Europe. It is made of solid materials and lasts a lifetime. It comes with a highly lubricated gasket to provide a tight seal.
The advanced filter medium of this filter includes the capacity to hold up to 14 grams of dirt in the filter medium. One reason that many people like this filter is that it keeps the oil clean and more for superior engine performance. You can drive miles before changing the oil filter.
Bosch D3314 oil filter has a highly lubricated seal, providing a tight seal. Despite their speed, the seals were easy to evacuate. This will prevent oil leakage.
Easy to assemble and apply

Designed for durability

They avoid spilling and warping with their sturdy steel base and bearing

It has an intense mechanism that can filter out more dangerous contaminants to increase safety

It has silicone that counteracts the check valve, which ensures that pure oil is provided when the vehicle is started
Some users say that the filter does not perform as described

Massive external case not convenient

Unnecessary extra microns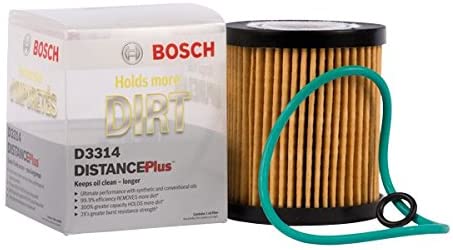 Bosch Oil Filter Reviews
Bosch is the world's largest supplier of automotive components. The FILTECH is their premium line of oil filters and it is high-performance oriented.
Bosch Premium FILTECH Oil Filter review
This German-made filter comes with exclusive FILTECH media technology that filters out more harmful contaminants for greater engine protection. As the other top filters reviewed, it also contains a silicone anti-drain back valve to prevent dry starts. That is a standard in high-performance oil filters.
Pros
German Engineering, American Made
99% Particle Filtration
42% More Media Surface
Outstanding Price-Quality ratio
Over 10 different models, covering almost every car made
Cons
Only 14 Grams of Capacity, 50% less than Mobil1
Bosch Oil Filter Comparison
Comparing Bosch With Similar Oil Filter Brands
The FRAM oil filter is generally lower cost, which is why many consumers choose this option. However, the majority of FRM filters can't compete with Bosch in terms of performance. We prefer the Bosch oil filter if you aren't worried about cost, but would rather purchase quality.
While both of these brands are exceptional, Bosch oil filters are created with a longer service life. Because of this, you won't have to change the oil filter as often as you would with many Mobil 1 counterparts.
While both of these companies provide reliable oil filters, the Wix options seem to have larger inlet holes. The Bosch models and similar options tend to come with smaller inlet holes, which could affect performance.
Both Bosch and Mann oil filters are German-engineered, which proves the exceptional quality. It's difficult to choose between the two as they both provide performance, superior filtration, and reasonable pricing.
Overall, many auto enthusiasts swear by the K&N oil filters, even over the Bosch options. These high-performance filters tend to outlasts Bosch and come with superior construction, unlike most other companies.
The Bosch and Purolator PureONE filters are indeed nearly 100% identical. To choose between the two, it's best to go with what's going to cost less for your vehicle.
If you want an OEM part for your GM vehicle, you would choose an ACDelco oil filter. However, most people are looking to upgrade the performance, which is when the Bosch oil filter becomes a better option.
Where to Buy Bosch Filters Online
Buy Bosch oil filters online have many approaches. You can go to their websites or other online shops.
Bosch After Market
Bosch Auto Parts
Bosch-promo
Bosch Oil Filter on Walmart
Bosch Oil Filter on Amazon
Bosch OilFilter on eBay