FRAM is an American brand of automobile replacement parts, providing oil filters, air filters, fuel filters and similar products. Since 1936, FRAM has produced original equipment for car manufacturers.
History of Fram
1932: FRAM was founded by T. Edward Aldham and Frederick Franklin to develop replaceable oil filter elements.
1934: FRAM incorporated, averaging a production of 10 filters per day.
1945: FRAM won the Army-Navy "E" Award and became the exclusive manufacturer of filter development.
1972: FRAM opened the industry's largest filtration engineering and research organization.
Fram Information
Website: www.fram.com
Tel: 1.800.890.2075
Email: [email protected](For technical support)
Email: medi[email protected](For all Marketing, Media or PR questions)
Fram Filters Near Me
Fram Filters are sold all over the world, and they have their selling points everywhere, mainly for US, followed by Mexico, Canada, Guatemala, Dominican Republic, etc. If you want to find a store near you, you can find it through Fram Filter Locator
Fram Features
FRAM®, headquartered in Cleveland, Ohio, is the leading consumer choice of oil filters in the United States.
FRAM® has become the number one oil filter brand in the United States.
FRAM® has a North American research, development, manufacturing and marketing location in Rochester Hills, Michigan; Hebron, Kentucky; Greenville, Ohio.
FRAM® employ state-of-the-art process control and automated inspection equipment to ensure that products are produced on time and meet the strict requirements of internal and customers. Some factories have also obtained many quality certifications, including ISO 14001 and ISO/QS 9000.
Fram Filter List
FRAM Filtration manufactures and markets a variety of quality oil, air, and fuel filters, as well as any automotive accessories such as PCV valves, crankcase filters, and transmission modulators. Here are some star products.
Fram ultra synthetic oil filter
Fram fresh breeze cabin air filter
Fram extra guard oil filter
Fram extra guard air filter
Fram filter 7317-fram oil filter ph7317
Fram ch820pl oil filter
Fram Filter Cross Reference
Fram oil filter cross reference, Fram cabin filter lookup or Fram air filter look up selector,please check oilfilter-crossreference.com for oil filter cross reference to fram.
The oil filter can purify the engine for up to 5,000 miles. Although the FRAM PH7317 does not last as long as the other oil filters on this list, it has many other privileges to justify its price.
This oil filter is most suitable for use with conventional oil. It may not be suitable for some modern engines that rely on synthetic oils. But this filter should be suitable for most cars.
The pollutant collection efficiency of Fram oil filter is about 95%.
Fram's Extra Guard filter has a unique handle coating, making it easier to install and remove the oil filter.
The oil filter is also equipped with a precision coil spring. The safety valve is glass fiber reinforced nylon. It may not be as good as silicone, but it is still quite reliable.
Of course, this is one of the better oil filters we have seen in this price range. It captures and contains dirt very effectively.
What is impressive is that the filter has an internally lubricated seal. This makes it very easy to remove the filter.
You can drive about 5,000 miles with this oil filter. Although this is not a long-term plan, it is very suitable for car owners who require regular maintenance of their vehicles.
Fram's "sturdy oil" oil filter has excellent ability to withstand extreme weather. Whether you are in the desert or in a blizzard, this oil filter can work normally.
For drivers who want to change their oil every 6,000-10,000 miles, Tough Guard is optimized for use in parking and travel, towing, extreme weather conditions, and is designed for high-quality conventional or synthetic oil.
Overall
These filters are reasonably priced and provide excellent treatment. This filter is very suitable for low mileage cars. You can rely on it to keep the engine clean and running in any weather.
Easy to disassemble and install

Reasonable price

Can withstand extreme weather conditions

High efficiency

Lubricating gasket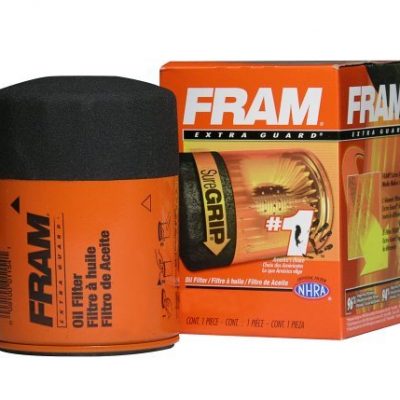 The FRAM XG10575 oil filter with SureGrip has a multiple filtration efficiency of more than 99% at 20 microns to provide excellent oil filtration ability under any driving conditions. It provides extended protection for up to 20,000 miles of use and has a double-layer synthetic media supported by a metal filter trap to help extend the life of the filter.
It is an excellent choice for removing pollutants, and its capacity is larger than normal. It has a unique handle coating that makes it easier to install and remove the oil filter. The product is also equipped with a precision coil spring. The safety valve is glass fiber reinforced nylon. It may not be as good as silicone, but it is still the best oil filter for synthetic oils.
Non-slip texture

Internal lubrication gasket

Precision coil spring with glass fiber reinforced nylon poppet safety valve

20,000 miles of protection

99% multi-pass filter efficiency at 20 microns
Leakage may occur during stable use under extreme weather conditions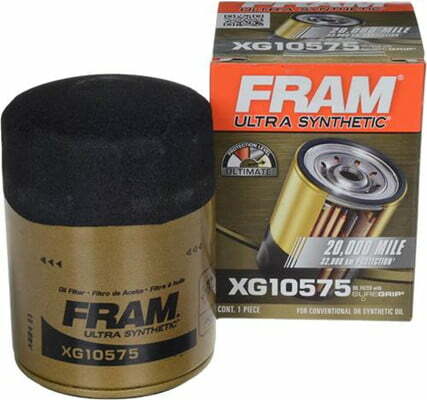 FRAM engine air filter with high qualities can be the perfect partner to your car's vehicle. The unique trait about FRAM engine air filter is that it comes with double air filtering action. this filter traps even the smallest bits of dust and air particles and at the same time keeps the engine safe and clean.
The Fram CA10755 is made from a paper material that has more surface area to catch any type of small dust particles. This filter paper has been tried and tested vigorously to ensure durability. It can ensure that the engine is not affected in any way. Thus the engine air filter provided a great source of acceleration and horsepower. The filter has also a bright orange rubber frame with white paper panels. This is for those people who want the interior of their cars to be more stylish.
This filter is easy to install and low maintenance. The guide on the box even makes it suitable for amateurs. In addition, it is suitable for many different models and different engine types. It is also associated with the originality of the engine.
Otherwise, the brand ensures that the fit on every single air filter does not disturb the originality of the engine's function. Moreover, the filter absorbs twice as much debris and particles as other filters do, so that the engine could have maximum protection and the car may run a lot smoother.
FRAM CA10755 Extra Guard Panel Air Filter Key Features:
A weight of 12.8oz
Dimensions of 10.3″ x 2.1″ x 10.8″
Paper air filter type
Every 12,000 miles or once every year to change
Manufacturer's guide book provided
Increases horsepower

Low maintenance

Traps more particles

Twice the power to keep the engine clean

Does not disturb the originality of the engine
Disposable, not reusable

Not sturdy enough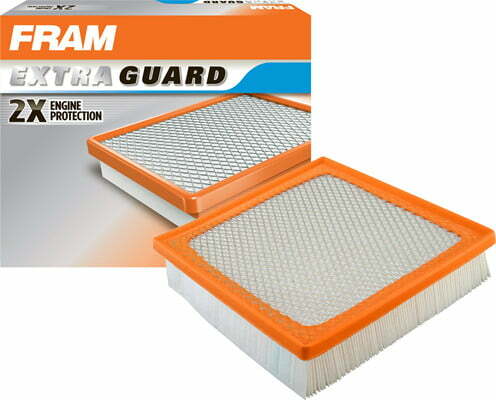 Headquartered in Cleveland, FRAM® is a leading consumer choice for oil filters in the United States. And the FRAM team continues to manufacture and market a variety of quality oil, air, and fuel filters, as well as many automotive accessories such as PCV valves, crankcase filters, and transmission modulators. Fram Fuel Filter is among the top brand search in the US region.
The Fram Fuel Filter product line is listed in the consumer product category under the name "Fram Diesel Filter". Fram offers a full range of Fram diesel filters: primary and secondary fuel filters. As for additional information, the primary filter is designed to achieve the best balance between low restriction and high efficiency, while the secondary filter is designed to eliminate particles to the maximum extent. Both of them provide the same optimal fuel system performance.
Popular brand

Readily available

Nylon construction materials

Undergo Anti-Drain Back Testing Process

Broad range outside diameter, inlet line, outlet line sizes for all the Fram In-line Fuel

Filter type to fit specific vehicle model
Reports of damaged packaging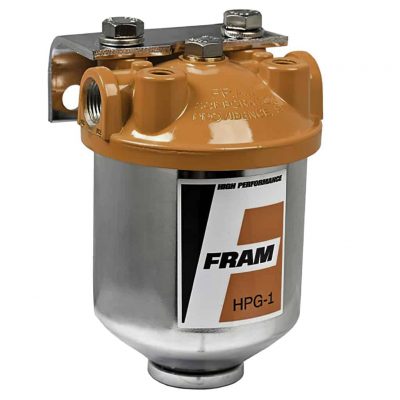 Fram Filters Reviews

Scott Cameron said, "I Use and have used fram filters and wix to name but a few… and I've never had any issues. With that in mind… I'd say they are good quality. hope this helps."
Which are better, fram oil filters or Mann oil filters?
"I have seen many examples of the poor construction of Fram oil filters documented on youtube, mostly cardboard baffles inside the canister that collapse and allow the motor oil to bypass any filtration in as little as 500 miles, so I personally avoid Fram at all costs. Mann, on the other hand, is the supplier to many vehicle manufacturers, VW and Audi, to name two. If those car makers trust Mann, then so do I. When was the last time you saw a Fram oil filter in a brand new vehicle? Sure they are cheap, you get what you pay for."Chris Benjes said.
What's the better oil filter, Fram or Wix?
Douglas Fung said, "Fram pleat count (folds in filter ) 35 Wix has 61. Wix uses a fiberglass material , Fram Extra Guard States it's value to about 20 microns about the same as Wix but you have to buy the fram extra guard."
Which are better, FRAM oil filters or STP oil filters?
Mansura Akter Susama said, " FRAM oil filters have the very thin filtration media. It's like a papertowel layer.
The filter will work but won'l last for a longer period if you drive rough and off- roas very often.
And comparing to the FRAM, the STP is quite better.
But if you used to drive for a regular going and facinf the traffic in cities, you can go for FRAM oil filters."
Although there are mixed praises and criticisms, some people find it easy to use, some people feel it is not easy to use, but as a big brand, Fram has rich products, guaranteed quality, and excellent after-sales service. Find a suitable filter and replace it regularly. It will probably not be too bad. After all, their filter is very cheap. It is enough for normal use.
You still have no ideas about how to choose a car filter? The following video is a comparison between Fram filters and other brands of filters.
It may be help you to learn more about
Fram oil filter vs Mobil 1
Fram air filter vs OEM
Fram oil filter vs K&N
Fram oil filter vs Wix
Fram oil filter vs OEM
Fram oil filter vs Motorcraft
Fram oil filter vs AC Delco
Fram air filter vs Motorcraft
Fram air filter vs K&N
If there is any infringement, please contact us to delete it in time.
Where to Buy Fram Filters Online?
Fram Filters on Fram.com
The first choice is of course the official website, FRAM.com, quality and service are guaranteed, and you can also participate in some discount activities. A variety of products for you to choose from, and equipped with detailed installation instructions, making it easier for you to choose the models you need.
Amazon Fram Oil Filter
If you already have a clear model and know exactly what you need, Amazon shopping is also a good choice. You can quickly find the filter you want to buy by searching for the model. In many cases, Amazon will have strong discounts, and the quality of large platforms can also be guaranteed.
Fram Filters on Ebay.com
Similarly, if you already have a clear model and know exactly what you need, eBay shopping is also a good choice. You can quickly find the filter you want to buy by searching for the model. And in general, the same product on eBay will be a few dollars cheaper than Amazon. For example, if you also use "Fram CA9481 Air Filter" to search Amazon and eBay, the price you get is $20.96 and $16.19, which is a difference of more than $4. Of course, this is just an example, you can search for it yourself, why not save a few dollars. If you are not short of money, please feel free to buy.
Fram Filters on Partsource.com
Partsource.com gathers products of multiple brands, and also for example, "Fram CA9481 Air Filter", the prices it searches range from $13.49 to $22.49. This website has a car model matching function that can accurately retrieve the auto parts you need. This is definitely a boon for people who don't know much about cars.
Fram Oil Filter at Walmart & Fram Air Filter at Walmart
Various product models, and the price is as low as $3.99.
There are many ways to buy, and there are many different online filter evaluations. The most important thing is to see your own budget and whether the model of your car matches. What suits you is the best.