We make 4 oil filters to compare who is the best. These are the brands of oil filters: Royal Purple, AC Delco, Mann, and Bosch. This is the oil filter guide for traditional oil filters and synthetic oil filters. This is the best oil filter comparison we have ever done. Remember, dealers always recommend using OEM filters.
We will do a oil filter comparison ranging from the least expensive conventional oil filter up into the most expensive fully synthetic oil filter that we could find.
Royal Purple Oil Filter Guide
Royal Purple is an American company specializing in a wide variety of auto parts and accessories. Since 1986, the company has been producing premium, high-performance oil filters, and engine lubricants. Their extended life series is a special force and top-on-the-line in the oil filter market. Superior filtration efficiency and particle removal, robust outer casing, and heavy-duty components are the most remarkable features of Royal Purple Oil Filters.
The story of the Royal Purple:
Every car owner dreams of a smooth ride with awesome engine performance. Royal Purple is committed to realizing this dream through their high-performance oil filters. The company has built a great name in the automotive industry for filters that offer optimized flow characteristics, high performance, and unrivaled particle removal.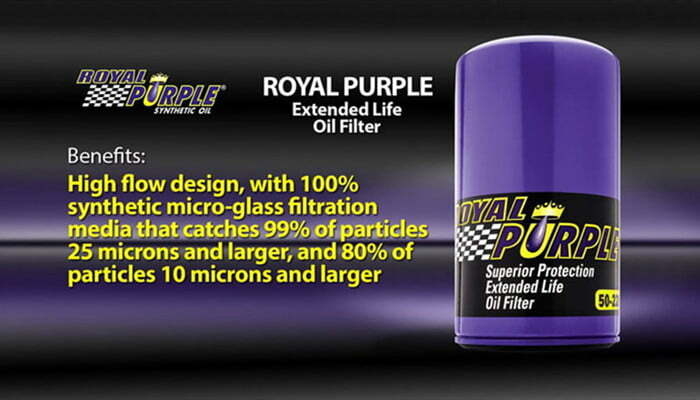 Other than their good reputation on oil filters, the Royal Purple is also known for their oil product. John Williams, founder of Royal Purple, is a pioneer in the development of high performance synthetic lubricant. The Royal Purple formulators have over 200 years of professional experience in developing high performance lubricants. Royal Purple focuses on the development of state-of-the-art lubricants. Unlike companies that focus primarily on fuels and other petroleum by-products, Royal Purple's sole mission is to develop products that are significantly better than other synthetic and mineral based oils. Royal Purple is very active in the lubricant industry and its related associations.
What is the advantage of Royal Purple Extended Life oil filters over other brands?
The Royal Purple oil filters are top-of-the-line. Royal purple premium extended life oil filters provide superior filtration, and flow outstanding particulate capacity and heavy duty construction for cleaner oil and longer filter life. In fact, Royal Purple's filter media employs the latest technology filtration system to capture particles as tiny as 25 microns. Each filter features a high flow design with 100% synthetic micro glass filtration media that catches 99% of particles 25 microns and larger, and 80% of particles 10 microns and larger. Plus the high-performance silicon anti drain back valve helps prevent dry starts even in extreme conditions.
So what makes the Royal Purple Oil filter stand out from the competition?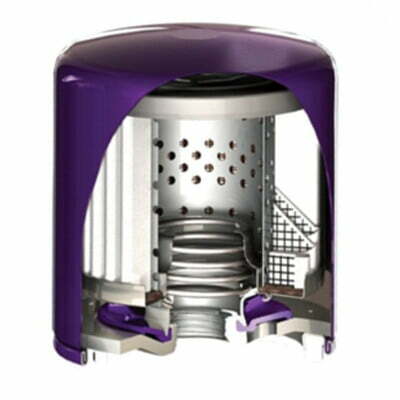 The most prominent features of the Royal purple filter:
The Royal Purple oil filter has a thicker casing material than its competitors. This ensures more strength and durability. The casing protects the internal parts from puncturing by foreign particles.
The end cap, bypass valve, and center tube of the royal purple oil filter are all metal. This explains why these oil filters can serve more than 10,000 miles. It is also worth noting that the metal center tube is designed to avoid crashing the filter element. Similarly, bypass valves are designed to support oil flow in the event of excessive filter element flow limits.
Premium NBR (Nitrile Rubber) gasket
Each Royal purple oil filter has a high-grade nitrile rubber rubber gasket on its base. This gasket prevents leaks and spills because it is designed to maintain a sealed and leak-free seal. In addition, it contains a special lubricating compound that promotes special lubrication.
Silicone anti-drain back valve
Silicone anti-drain back valve is designed to eliminate oil-drain back during the shutdown. It is made of silicone and performs much better than standard rubber in both high and low temperature oils. Another benefit of the silicone anti-drain back valve is that it can last long.
Product Advantages
What are the significant advantages of the oil filter under this brand?
Royal Purple high performance oil filters combine advance micro-glass technology and high capacity with optimized flow characteristics for maximum performance and filter life.
They use 100% synthetic micro-glass media to make their oil filters. With a 99% filtration efficiency at as little as 25 microns, this material delivers unmatched impurity removal.
Each filter features:
100% synthetic micro-glass media for superior particle removal with 99% filtration efficiency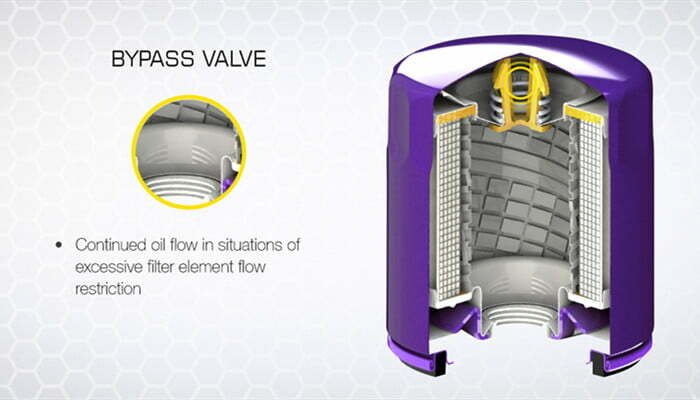 A high performance silicone anti-drain back valve that prevents dry starts even in extreme conditions
A heavy gauge steel back-plate for maximum burst strength
An extra heavy-duty nitrile-rubber base gasket with special lubricity compounds to reduce torque during installation and ensure a leak-free seal
Ultra-strength filter housing that provides extra protection against puncture from road debris
Royal Purple oil filters can extend change intervals 2 to 3 times the manufacturer's recommendation, and meet or exceed original equipment manufacturers' requirements. All new car warranties remain in effect when using Royal Purple Filters. Royal Purple filters are fully compatible with all synthetic and conventional oils, and are readily available for most makes and models.
Filter media Comparison
Royal Purple's state-of-the-art synthetic filtration media provides greater filtration efficiency and particulate capacity while minimizing flow restriction, compared with the conventional cellulose filtration fibers, of which the spaces allow larger particles to pass through to your engine.
Average beta rating based on ISO 4548-12 multi-pass test methods:
ß25 = 100 (at 25 or greater micron, media is 99% efficient.)
ß20 = 75 (at 20 or greater micron, media is 98.7% efficient. Also considered absolute rating.)
ß10 = 5 (at 10 micron or greater, media is 80% efficient.)
The efficiency rating and at what micron size:
The efficiency of a filter is described in terms of a percentage of particles caught at a certain particle size(and larger). Using the ISO 4548-12 multi-pass filtration efficiency test, Royal Purple filters are: -99% at 25 micron and larger -98.7% at 20 micron and larger -80% at 10 micron and larger.
What function does the wire-backed media provide?
The wire backing is to support the filtration media. This further reduces the chance that the filter media could collapse. The use of stainless steel wire provides a strong, durable, AND low restriction way to provide the support.
Top 4 Royal Purple filters on Amazon You Can Buy
The Royal Purple 10-2808 oil Filter is an oil filter well suited for turbocharged engines. The filter adopts 100% synthetic micro-glass medium. As you would expect from a royal purple filter, it is 99% efficient at removing impurities. The 10-2808 is also equipped with a drain proof return valve. So you don't have to worry about a dry start. It also comes with a heavy-duty rubber base gasket to ensure a leak-free seal. And its super-strong casing can withstand the strongest internal pressure.
When using the Royal Purple 102867 oil filter, your car can have a 15,000 mile protection as the  full synthetic oil Premium oil filter use all-synthetic micro-glass media to achieve 99% filtration efficiency at 25 microns or larger.
The Royal Purple 20-820 Oil Filter features 100% synthetic micro-glass media for superior particle removal. It has 99% filtration efficiency at 25 microns. And this oil filter is also designed with a high-performance silicone anti-drain back valve to prevent dry start. Extra heavy-duty rubber base gasket can ensure a leak-free seal. Otherwise, the ultra-strength filter housing can endure higher burst strength than conventional filters.
This Royal Purple 20-820 oil filter is designed to provide superior particle removal and low flow limitation. It meets or exceeds the requirements of OE for your engine. Its shell is made of strong metal. This means that it can withstand any stress that may occur during its service. With the Royal Purple 20-820 oil filter, you will enjoy a longer interval between oil changes. What's more, it's cheaper than other royal Purple filters.
Royal Purple Service
The Royal Purple's customer service and sales representatives cover the globe and are ready to answer your questions and provide more information about their products.
You can do the vehicle search by the year, make, model and engine, or do the part number search, or do the cross reference search on its site to find your needed oil filters.
All Royal Purple premium oil filters are compatible with both types of motor oils. And Royal Purple filters meet or exceed original equipment manufacturers' requirements. All new car warranties remain in effect when using Royal Purple Filters. Compared with other manufacturers' oil filters, Royal Purple premium filters use 100% synthetic micro-glass media for superior particle removal with 99% filtration efficiency at 25 microns and larger, and 80% of particles 10 microns and larger.
Royal Purple Package
The Royal Purple provide the written instructions of Royal Purple for vehicles maintenance guide.
The Royal Purple oil filters has typical package with color purple.
Recommended change interval:
Vehicles under warranty should follow the vehicle manufacturer's recommended change intervals. For non-warranty applications, the useful life of Royal Purple premium oil filters is the life of the engine oil. Vehicles driven in severe conditions should follow the change intervals recommended in their owner's manual; severe conditions are defined as racing or commercial applications, frequent towing or hauling, extremely dusty or dirty conditions, or excessive idling.
Royal Purple Reviews
Royal purple contains a 100% synthetic micro-glass medium that removes particles with a 99% filtration efficiency. You can see that this number is very close to Mobil 1. It is also equipped with a drain back valve to prevent dry start. Rubber gaskets are heavy-duty manufactured to ensure no leakage seal. The casing is very strong and can withstand the highest internal pressure. This is a filter particularly recommended for turbocharged engines.
Sturdy design with top-quality components, including metal end-caps and silicone back valve

99% cleaning efficiency at 25 microns

Extra thick shell

Beautiful purple color

At least 10,000 miles of use before you start thinking of changing the oil filter

Several options available at different price points

Royal Purple is a reputable brand, known for producing top of the line products in the auto industry

Quality of Materials and Recommended for Turbocharged engines
The main setback of Royal Purple filters is that they are normally more expensive than their competitors, such as Mobil 1 or Bosch
AC Delco Oil Filter Guide
ACDelco stands for quality. With 100 years of history, ACDelco is the premier supplier of aftermarket parts and products that cover most GM vehicles as well as many other makes and models. As a global leader in automotive replacement parts and related services, their products can be found around the globe and they focus has always been on building a reputation as the number-one source for quality auto parts.
ACDelco provides high-quality parts for all major vehicle systems, as well as off-road and marine equipment. Their product portfolio includes maintenance parts such as car batteries, fluids & lubricants, chemicals, spark plugs, oil filters, air filters, wiper blades, and brakes. And ACDelco products offer fit, form and function for most makes and models at an affordable price.
What is the advantage of this brand over other brands?
Recyclable Steel Shell, Threaded Plate Assembly, And Leaf Spring
The durable design of the AC Delco oil filter proves that it will hold up. In fact, it is built to be an OEM replacement for GM vehicles.
There are several different AC Delco filter options, but at the minimum, users can expect 98% multi-pass filtering efficiency at 25-30 microns. With this type of protection, the motor remains free of dirt, debris, and contaminants.
Manufactured For GM & Non-GM Vehicles
The AC Delco filters are specifically designed to replace the original equipment on GM vehicles. However, many of the filters are also compatible with other makes and models.
The strong and durable gasket ensures that there are no leaks with the oil filter. This gasket doesn't easily wear out or crack, yet doesn't hold back the user from changing the filter either.
Consistent Flow Management
As an OEM replacement, you can expect the same oil flow rate as with your vehicle from the dealership. These filters are designed to allow just the right amount of oil through for maximum performance.
Thermosetting Adhesive Seals
With the specially made adhesive seals, you know that the media will remain in place. This brand provides dependable performance without spending too much money.
Five Times Greater Burst Strength
Even if you put your vehicle under maximum stress, you can count on these oil filters. They are designed to hold up even when towing, hauling, or driving in extreme temperatures.
Injection Molded Nylon Core
The durable nylon core injected into the oil filter provides plenty of strength. Despite the durability and high-end performance, owners still receive plenty of oil flow for a smooth ride.
Product Advantages
ACDelco filters protect both the vehicle components and occupants by trapping potentially harmful elements present in the air and fluids that vehicles use in normal operation.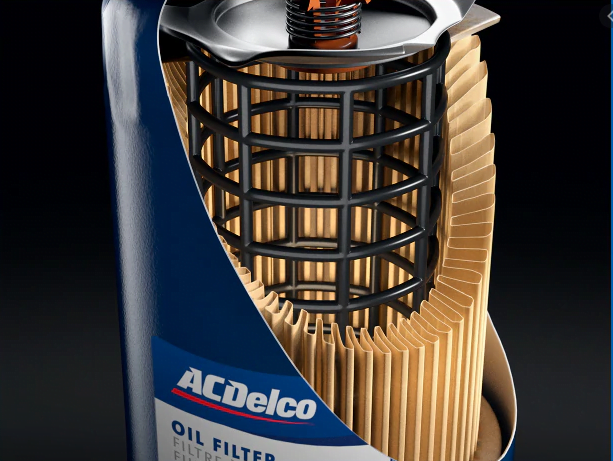 ACDelco oil filters features and benefits:
98% single-pass filtering efficiency at 25-30 microns for excellent filtering capabilities
Patented cellulose media traps particles 1/3 the width of a human hair providing a clean supply of oil to engine components
Thermosetting adhesive seals hold filtering media in place for consistent, dependable filtration
Designed with five times greater burst strength than most engine oil operating pressures after the oil reaches operating temperatures
The AC Delco Oil Filter Range
The AC Delco brand has been in business since 1916. It is an American-based automotive parts company that is owned by General Motors. However, the company also provides some aftermarket parts for other brands.
The ACDelco Gold oil filter is designed to catch particulates measuring as small as 30 microns. It comes with the nylon core, full cover base plate, lubricity gasket, and synthetic end caps for maximum durability.
The Duraguard lineup provides 98% efficiency and also includes an anti-drain back valve that keeps the oil in place to avoid dry starts. This model is also part of the Gold Professional line.
With the UltraGuard, you can expect 98% filtering efficiency and a thermosetting adhesive seal. However, this model is also able to withstand five times greater force for a longer life.
Top 5 Best ACDelco Oil Filters Reviewed
The ACDelco PF2232 Professional Engine Oil Filter is a spin-on oil filter, with cellulose media material. Its oil change interval is 3,000-7,000 miles.
It offers a reliable 98% multi-pass filtering efficiency. With this system, the filter is expected to trap particles measuring 1/3 of the width of a human hair, making its way to your engine free of contaminants.
The ACDelco Duramax oil filters feature a thermosetting adhesive that keeps the media in place. Moreover, it is a GM replacement, with a high burst strength that is five times greater than regular oil operating pressure.
Otherwise, it's a value-based option that is easy to remove and install. However, you can't expect to drive many miles with this filter, which is what hurts the value slightly. If you are just looking for something to get you by, for now, this would be a winner, because it has the overwhelming amount of five-star reviews from existing customers.
The AC Delco oil filter PF63E is 20% to 25% smaller in volume, but the filter medium provides sufficient capacity. This particular design includes an open core area ten times the size, which will only further improve the flow. In addition, the construction includes a steel shell, recyclable leaf spring, and threaded plate assembly for many miles of use.
As ACDelco is interested in using the filter to become more environmentally friendly, this oil filter comes with a nonmetallic cartridge. You can save the planet by burning cartridges instead of adding more trash to your local dump. With the lubricated gasket, you will notice a reduced mounting torque to make it simple for anyone.
And the filter costs less than many other brands. Because of this, we should change it more often to get the most out of it. However, when you look at customer reviews, it's easy to see that most car owners think this filter does the job effectively. Between the filtering capability and the two-year warranty, it's hard to find anything negative to say about this product. Whether you are looking for an OEM replacement or need to save money, the job of this filter is done.
Your Chevy truck should be given maximum protection. With the AC Delco oil filter PF46E, you can rely on a smaller, more compact size to effectively remove contaminants. Even at smaller sizes, there is a lot of variation inside to keep dust and debris to a minimum. In fact, the open core area is ten times larger than the other areas to ensure maximum oil flow during the filtration process.
This strainer is assembled from a threaded plate, steel housing, and recycled leaf spring to provide more miles of driving time on your truck. The built-in non-metallic filter element of this filter also strives for environmental protection. When you're done with it, just burn it instead of sending it to the local dump. Otherwise, you can lubricate the washer so that it is easy to get this strainer in a safe place.
The most important selling characteristic is price. The price of ACDelco filters is lower than that of many similar filters. If you're looking for a filter that will run many miles, this isn't the best option, because it does need to be replaced between 3,000 and 7,000 miles, depending on the oil you use. However, if you change the oil frequently, it is usually wise to change the filter at the same time.
With the PF48E ACDelco oil filter, your GM car is as well protected as it should be. This small, compact filter may not seem like it holds much, but it is efficient and easy to filter debris. The open core area is ten times more measured than some other models, which also contributes to the seamless flow of oil.
The durable construction includes a steel case, threaded plate assembly, and recyclable leaf spring. As an environmentally friendly design, it can reduce the waste after replacement. Simply burn the nonmetallic bullet inside instead of throwing it in the trash can. More importantly, this model includes the lubricated gasket. With this design, you can install filters with ease.
The price really catches the eye. With this filter, you can save a lot of money when changing your general oil. However, be sure to change the oil filter regularly to make sure it is still working. Otherwise, you could allow contaminants to enter the engine, which could lead to further engine damage. As a rule of thumb, you'll need to change the oil every 3,000 to 7,000 miles, depending on what oil you're using.
At the high end of the spectrum, you can use a Ultraguard filter. The filter provides 98% multi-pass filtration efficiency in the 25-30 micron range, ensuring that dirt, debris, metal scraps and other contaminants do not enter the motor. With durable construction, it can make the car in high performance. The filter is rated to withstand more than five times the normal engine operating pressure.
This is why this filter is the best choice for driving under extreme conditions. If you put a lot of pressure on your GM, you need this extra protection. Most importantly, thermosetting adhesive seals are designed to maintain the filter's reliable performance under all conditions.
Considering that this model is AC Delco's top-of-the-line model, you can expect to pay much more than the others. While this won't give you more time to change, it does provide you with a more durable filter that filters out fine particles. What you leave behind is engine performance and protection, and you need to be on the road for longer. If you don't need a cheap filter, this is the one we recommend.
ACDelco Service
ACDelco oil filters comes with a 12 month or one year warranty, whichever comes first.More information, including how to file a claim, is available from your nearest ACDelco parts store or ACDelco Service Center.
ACDelco Package
ACDelco products packages mainly have three kinds of different forms, in three colors, blue, gold, and silver.
Each package contains a QR code to easily connect you to our worldwide page. Thus no matter where you are, you can find the information you need.
ACDelco Reviews
ACDelco oil filters are a nice choice because it comes in a variety of options and high quality guarantee. The bad news is that their oil filters don't fit every car. Besides, ACDelco oil filters are good products at a great price.
Low cost

Fits GM vehicles and more

Good OEM replacement

Reliable brand

Limited two-year warranty

Different types for different needs

Durable materials

Easy to install and remove
Cheaply made

Not as efficient as performance models

Not an option for all models

Doesn't fit every car
The Mann-Filter oil Filter is manufactured by Germany's Mann-Hummel, one of the largest manufacturers of Filter elements in Europe. Since the 1950s, the company specializes in the production of oil cleaning components. The company's products represent the high end of the market.
The Mann Hummel company dates back about 70 years. The founders of the two companies began shifting their textile businesses to filter manufacturing in the early 1940s' commencing with oil and air filters. Due to wars in North Africa and the Mediterranean Sea, extreme temperatures and dusty weather conditions have challenged the service life of engines. This strong demand for repeatable and consistent quality has led to innovation and many patent applications.
MANN Brand Advantage
MANN oil filters represent quality, performance, reliability and value, and no brand embodies that more concretely than MANN Filter. For 70 years, MANN has been recognized as the preferred brand of OE-Spec filters, delivering high quality filters to some of the world's most respected automotive manufacturers.
What is the advantage of MANN Filter over other brands?
Locks ensure lubricant supply
Typically MANN-FILTER equips its spin-on oil filters with specially moulded, highly elastic anti-drain membranes, ensuring that the oil remains in the filter, even with an inclined mounting position, when the engine is switched off.
Engines lubricated even at low temperatures
Top-quality filters from MANN-FILTER often also contain so-called bypass valves. These ensure that lubrication points on the engine are supplied with oil even under extreme conditions.
Stability and long-lasting hold
The upper cover of a MANN-FILTER spin-on oil filter is made from up to 5 millimetre thick steel sheet. The massive design of this screw cap provides great stability for the whole filter. Assembly and removal are made easier through its accurately fitting thread. The gasket, providing an oil-tight seal for the spin-on filter to the mounting flange, also has an important function. It prevents oil seeping out and ensures the filter is firmly screwed in when the vehicle is in motion. A specially designed seat gives the gasket a secure, long-lasting seal. The gaskets are made of high-quality elastomer which can withstand extreme cold.
Leak-proof in hardness test
The number of pulses that a MANN-FILTER product must withstand without damage is defined in the vehicle manufacturers' specification. Such pulsation tests are used by the development engineers at MANN-FILTER to check the stability and leak-tightness of the products.
Optimum pleat geometry for maximum filter surface area
The optimum pleat geometry of the MANN-FILTER medium provides the largest possible surface area. MANN-FILTER also uses fully synthetic or synthetic fibre reinforced cellulose media. Moreover, MANN-FILTER achieves this through stable end caps and a support pipe in the centre, thus providing the necessary strength to the element, even at high differential pressures which occur during a cold start in winter.
Fixing prevents unwanted bypass
To fix the element in place, MANN-FILTER has installed an element guide in the form of a flat spring. This not only supports the element axially, but also radially, thus maintaining a reliable seal at the interface with the screw cap. Unfiltered oil – like in a bypass – can therefore not flow past the filter element.
Quality proves worthwhile
The spin-on oil filters from MANN-FILTER can thus prevent unwanted and often expensive repairs. They are in fact an investment in customer satisfaction and trust for many years.
MANN Product Advantages
4 facts about Mann-Filter oil filters:

The filtering elements are made of materials, resistant to aggressive chemical substances and high pressure. The paper folds neither crumple nor deform during operation, which guarantees the maximum filtering efficiency.
High absorbing ability promotes high quality cleaning during the whole operational term.
Housings of the parts are designated for the working pressure up to 10 bar and are notable for corrosion resistance. They maintain tightness within the whole operational lifetime of the unit.
Precisely adjusted valves control the lubricant flow regardless to an engine operation mode.
MANN Oil Filter Types
According to a construction there are:
Spin-on. They have a solid metal housing. They are notable for excessive durability. They are replaced in an assembly. They are provided with an anti-drain valve, which provides instant supply of lubricant to the engine components at it starts. Also they have a bypass valve, which is responsible for providing the power unit with oil at extremely low temperature or in case of worsening of filtering element capacity.
They have no casing. They are made of fully recyclable materials. Their construction includes no metal components, that is why such parts are easy to dispose. They have the anti-drain silicone membrane, which prevents oil leaking out of the part after engine stop.
By filtered oil volume they are divided into:
Full-flow. They are the most common. They are made of a special paper. The entire volume of the lubricant, supplied into the engine from the crankcase flows through them.
By-pass. They have no bypass valve. They filter only 5-10% of the lubricant in one cycle. They are made of cotton fibers. As a rule, they are installed together with the full-flow filters. Mann-Filter bypass oil filters stop the smallest contaminants, but have great hydraulic resistance, that is why the filtering process is performed slowly.
In such filters 90-95% of oil flows through a paper filtering element of the full-flow filter, while 5-10% flows through the bypass element with a cotton filling.
Top MANN oil filters
BMW's go-to product, the Mann-Filter Hu 816 X Metal-Free Oil Filter comes with everything you need. The pleated design gives you more surface area to enhance filtering. The Mann-Filter has an impressively high capacity for storing contaminants and removing them from the oil. In addition, the Mann-Filter is 100% recyclable.
The main issue you may run into with the filter is that it is a bit difficult to install.
This Mann-Filter HU 925/4 X Metal-Free Oil Filter features a metal-free filter, making the system element friendly and providing great protection for the engine. It can hold a high capacity of contaminants with its incredible filtering surface. This unit's pleat structures let the filtering surface be efficient while in the whole process. As this product is a metal-free oil filter, this vehicle part is made with one material and won't produce ash when it is disposed of using a thermal process.
This MANN-FILTER HU 719/7 X Oil Filter has optimum protection and sealing over the entire maintenance interval. Because the filter medium is specially adapted to the intended use. Most of the customers viewed it as an excellent product.
This Mann-filter spin-on oil filters offer the highest filtration performance due partly to the filter medium specially adapted to the intended use. They protect the engine by optimally cleaning the oil. And the valves are adapted to the respective engine, such as non-return valves or bypass valves, ensure a reliable oil supply.
MANN-FILTER W 610/6 Oil Filter is innovative high-quality product and an absolute customer. The OEM quality means it comply with the same technical and quality specifications. Customers do feel the MANN oil filter deserves the price.
MANN Service
Considered a premium brand for innovative high-quality products and absolute customer orientation, MANN-FILTER holds claim to 98 Percent market coverage for the European vehicle market and offers a comprehensive filter support programme for its customers.
MANN Package
Both in the original equipment of a new vehicle and in the yellow & green MANN-FILTER packaging: original MANN-FILTER products with 100% OEM quality are trusted around the globe.
MANN Review
Mann-filter oil filter elements not only offer the highest filtration performance, but also protect the engine through excellent oil cleaning.
OE-Spec oil filters

High quality
Much more expensive than other brands
Product Advantages
Bosch Oil Filters Features and Functions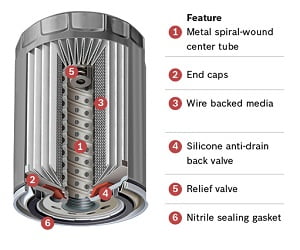 Metal spiral-wound center tube
Reinforces internal strength for durability
Silicone anti-drain back valve
Protects against dry starts and doesn't dry out
End caps
Prevent trapped contaminants from reaching your engine
Relief valve
Prevents oil restriction and ensures proper oil flow
Premium media
Media blend provides 99% filtration efficiency
Nitrile sealing gasket
Internally lubricated gasket has long life and will not dry out
The Bosch Oil Filter Range
Robert Bosch GMBH is a multinational engineering and technology company based in Stuttgart, Germany. The company has been in business since 1886 and focuses on mobility, consumer goods, industrial technology, and energy and construction technology. The company has three main types of filters.
Bosch Distance PLUSOil Filter
The Distance Plus oil filter is meant to hold up longer than most other options. It captures 99.9% of particles and has a large capacity rating. This model is considered the top option in the Bosch lineup.
If you are looking to get an oil filter for your premium car, you want an oil filter that matches. These Bosch Premium filters are made with natural and synthetic filtration materials to offer the best performance possible.
These filters are considered the budget-friendly option, providing 97.5% efficiency and holding up to 13 grams of contaminants. You can find this model for most vehicles, ensuring maximum coverage.
Bosch Service
Bosch warrants its automotive filters to be free from defects in material and workmanship.
Bosch automotive filters are manufactured to high quality standards and guaranteed to meet fit, form and function in accordance with Society of Automotive Engineers (SAE) and International Organization for Standardization (ISO) test procedures.
Customers can ask the technical service department by calling 1-800-848-3783.
Bosch Package
All Bosch oil filters are packed in a box with Bosch brand.
Bosch Review
Bosch Premium FILTECH Oil Filter – Class leading filtration
The whooping 99.9% filtration efficiency makes Bosch Premium FILTECH oil filter stand out. The cellulose and glass blended media can catch particles as small as 20 microns.
Following the "bigger is better" trend, Bosch's oil filter medium is 42% larger and 30% thicker than other similar filters. Although the performance of the blended medium is not as good as that of the full synthetic medium, the additional surface area (71 square inches to be exact) ensures industry-leading filtration efficiency. The larger medium produces about 14 grams of capacity. That's good enough, but only half as good as the extended performance filter of the Mobil 1.
Bosch Premium FILTECH oil filters are made of top quality. There is a silicone barrier drain return valve and a metal bypass spring. Unlike other models where bypass springs are separable things, Bosch has decided to build a spring to the end cap.
The gasket design is pre-lubricated to ensure a tight and easy fit for the engine.
At this price point, it is a very nice touch that will greatly increase durability and performance.
This oil filter is a fantastic choice for price and features a full range of quality construction and high-end filtration capabilities.
Durable design with built in bypass spring

Well respected German brand

Lubricated gasket for easy but firm fit

Fantastic efficiency

Very affordable
Uses a blended media which isn't as good as synthetic

Only 14 Grams of Capacity, 50% less than Mobil1.
Bosch's history can be traced back to 1887, when Robert Bosch invented a magneto ignition device. Ten years later, he installed the device on a three-wheeled car. Today, The Bosch Group has factories around the world and employs about 390,000 people. The main products are Bosch 3410 Premium FILTECH filter and Bosch 3300 Premium FILTECH filter.
Bosch won the oil filter category in the Car, Motor and Sport Magazine's best Brand award for 2015. The automotive supplier's oil filters are known for their excellent performance, tightness and heat dissipation. Filters can prevent pollution, such as metal dust and combustion residues, and also reduce engine wear. Bosch provides a variety of oil filters for 95% of cars currently on the market.
Brand Advantage
Why Choose The Bosch Oil Filter Brand?
PTFE Treated Seal Gasket/High Lubricity Gasket Design
A tough gasket design in Bosch oil filter can avoid leaking oil. This durable gasket makes it easy to remove and install the oil filter.
Extensive Coverage On Domestic, Asian, And European Vehicles.
Bosch's oil filter product line cooperates with a variety of automobile manufacturers. Whether you car is from domestic, European, or Asian model, Bosch filters can satisfy your maintenance needs.
Exclusive FILTECH Media Technology
Bosch distance plus oil filter review shows that the advanced filtration construction catches more dirt and impurities than some other brands. This exceptional coverage ensures that the impurities and contaminants don't reach your vehicle's engine.
Silicone Anti-Drain Back Valve
Due to the durable silicone anti-drain back valve, oil does not return to the system when the engine is shut off. With this design, you don't need to worry about the dry starts.
Superior Burst Resistant Strength
Bosch ensures that the oil filter can handle extreme pressure. Whether you're driving in extreme temperatures or in a trailer, the steel base plates and housing can withstand the pressure.
High Dirt Carrying Capacity
The Bosch oil filters are capable to carry more contaminants because of its special design.
The Bosch lineup provides a variety of efficiency ratings, with the Distance Plus oil filters catching up to 99.9% of dirt and particles.